Violence Broke Out French May Day Protests Against Macron
On Labor Day, hundreds of thousands of people flocked to the streets across France to protest President Emmanuel Macron's pension reform, sparking clashes between protesters and security personnel.
Unions had hoped for a sizable nationwide turnout to further frighten Macron, who has already faced jeers and pot-throwing while touring the nation to promote his second term and defend the reforms.
Despite months of protests against the bill, Macron signed a law increasing the retirement age from 62 to 64 last month.
Violence broke out in numerous places on the fringes of the main union-led marches, leaving at least 108 police injured and 291 people detained nationwide, Interior Minister Gerald Darmanin told reporters.
According to AFP correspondents, extreme protesters in Paris threw objects at police and shattered windows of establishments like banks and estate agency, to which security forces responded with tear gas and water cannon.
Some people started a fire that spread to a building and required the assistance of the fire department as police attempted to disperse the protest at its endpoint.
Extremely unusual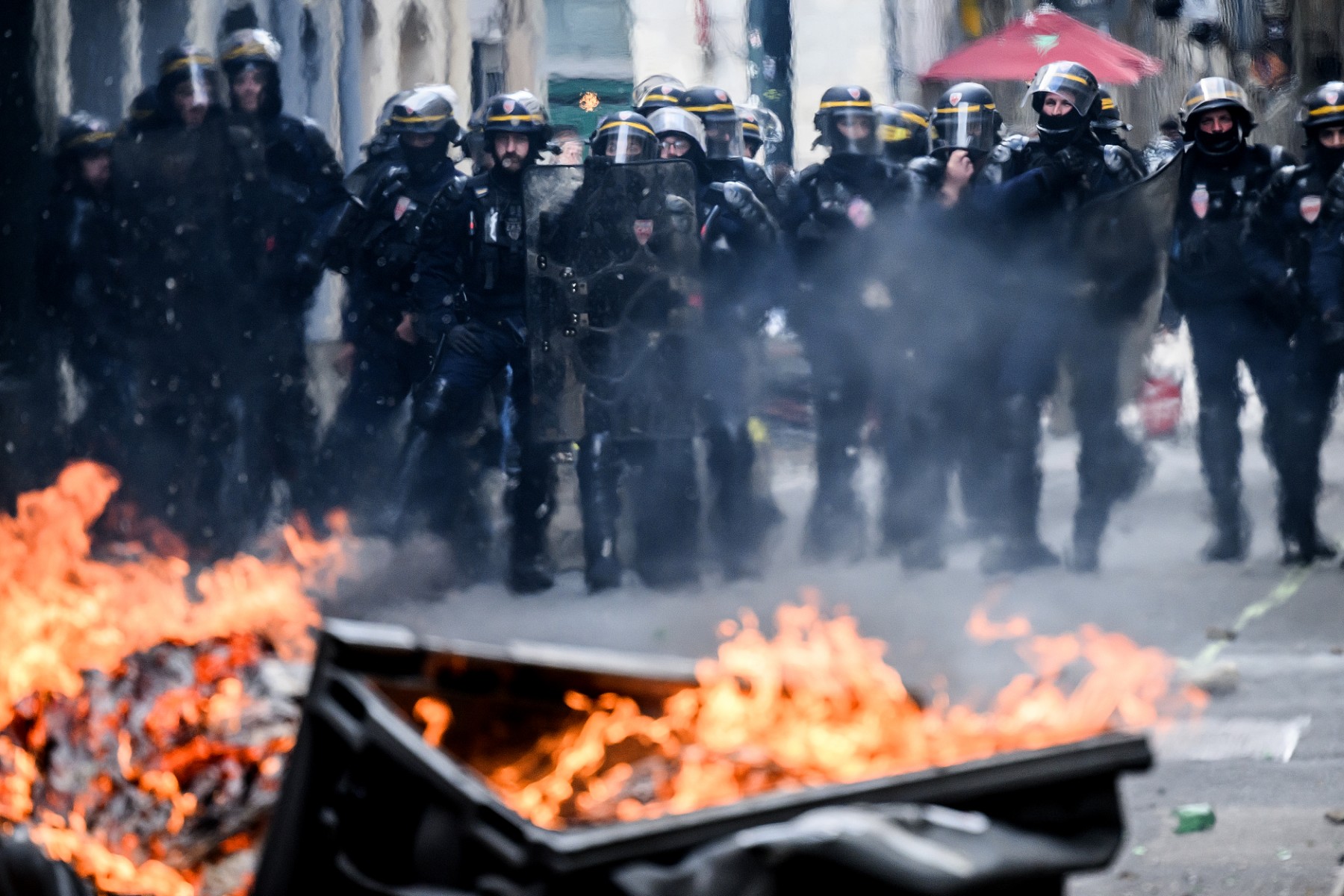 A Paris judge had rejected a petition from rights groups asking that drones not be deployed, so police had been given a last-minute green light to use them as a security measure.
As tensions rose during protests in Toulouse, southern France, security forces used tear gas, and four cars were set on fire in Lyon, a city in the southeast.
Police also used tear gas in Nantes, a city in western France, in response to projectiles protestors threw, according to AFP correspondents. The Uniqlo apparel store's windows were broken.
In the southern city of Marseille, protesters briefly took over the opulent InterContinental hotel and wrecked furniture and flower pots.
This May Day was a time for responsible mobilization and dedication in numerous French cities. Prime Minister Elisabeth Borne stated on Twitter that "the scenes of violence on the fringes of the demonstrations are all the more unacceptable."
Darmanin said that it was "extremely rare" for a May 1 protest day to have such a high number of police injured.
He claimed that although a police officer wounded by a Molotov cocktail suffered burns to his hands and face, his life was not in danger.
The interior ministry reported that 782,000 people demonstrated around France, including 112,000 in Paris alone. According to the CGT union, there were 2.3 million demonstrators in France overall, with 550,000 of them in Paris.
Despite being significantly lower than the largest demonstrations against the pension reform this year, attendance was significantly higher than May Day of last year.
Still very powerful
In an effort to relaunch his second term once the reform was signed into law, Macron and his administration have made an effort to move past the months of public unhappiness.
"As long as this pension change is not withdrawn, the chapter won't be turned. At the protest in Paris, CGT president Sophie Binet declared, "The will to win is unwavering.
The CFDT union's leader, Laurent Berger, continued, "The mobilization is still very, very strong."
It indicates that wrath and bitterness are not waning.
For the first time since 2009, all eight of the major unions in France joined together to call for protests on Monday.
Macron gets the "red card"
Since mid-January, France has experienced 12 days of nationwide strikes and protests against Macron and his pension reforms, some of which have descended into violence.
On Saturday, when Macron went to the French football cup final, he was greeted by protesters holding red cards.
According to a study released last month by the IFOP polling organization, over three-quarters of French citizens disapproved of Macron.
Borne used the contentious article 49.3 of the constitution in March, with Macron's backing, to force the pension change through parliament without a vote in the hung lower house.
The massive garment reading "Macron resign" was fastened to the enormous statue representing the French republic at its center in the Place de la Republique, where the Paris march began.
Celine Bertoni, a 37-year-old scholar in the French central city of Clermont-Ferrand, said: "The law has been passed but has not been accepted; there is a desire to show discontent peacefully to have a reaction in response that shows a certain level of decency."
Over 70 rallies with the theme "Raise wages, lower prices, and share profits" were held in Spain, one of the smaller and less tense countries in Europe where May Day protests were held.