South Korea Commemorates BTS's Ten Years As A K-Pop Superstar
As South Korea unveiled a special commemorative stamp series to honour the supergroup's 10th anniversary, fans of the K-pop megastars BTS descended upon hotspots throughout Seoul on Monday.
Fans of the group, popularly referred to as ARMY, gathered in front of a massive mural of the stars being decorated on a wall to take selfies and make TikTok videos.
On Tuesday, the official anniversary of the septet's debut, Korea Post launched a special edition series of stamps in the group's honor that will be available at post offices after selling out nearly instantly online.
Unexpectedly, the stamps were sold out the day of their online release, a Korea Post official told AFP, despite the fact that BTS are unquestionably world-renowned artists.
The group made their debut on June 13, 2013, and after that, they went on to become the first all-South Korean act to rule the US and UK charts, earning billions of dollars and gaining a huge following throughout the world.
According to Korea Post stamp designer Kim Mi-hwa, "many ARMY BTS fans have requested the release of BTS stamps, and we also wanted to issue stamps for these international artists for their 10th anniversary."
The band, which is presently on break as two of its members do their required military service in South Korea, released a new digital song last week to commemorate the occasion.
The band's second chapter after ten years as musicians is reportedly referenced in the track "Take Two".
Fans from all around the world came to South Korea to commemorate the occasion, and the city of Seoul put on a special event for them.
I'm having a blast being here. Being surrounded by fellow ARMY is exciting, according to Australian scientist and BTS fan Anne Micic, 55.
"I believe that's the other thing; when you meet other ARMY members, it almost feels like you have another family, which is really awesome," says the author.
"BTS Changed my life"
13 spots are marked on a special map that the city government made available to foreign visitors who were in the South Korean capital.
It features the Yongsan office of the agency HYBE as well as the famed Gyeongbok Palace, where BTS taped a special episode of The Tonight Show Starring Jimmy Fallon.
Fans argued that making the long trip was worthwhile in honor of their preferred band.
BTS "really saved my life," said Claudia Agustin, a 23-year-old accounting student from Indonesia who told AFP in Seoul that their lyrics had spoken to her during trying times.
She expressed her "really, really proud" of the group's 10-year milestone.
"I am aware of their struggles since their early days before they actually break through. They are now well known to everyone" she said.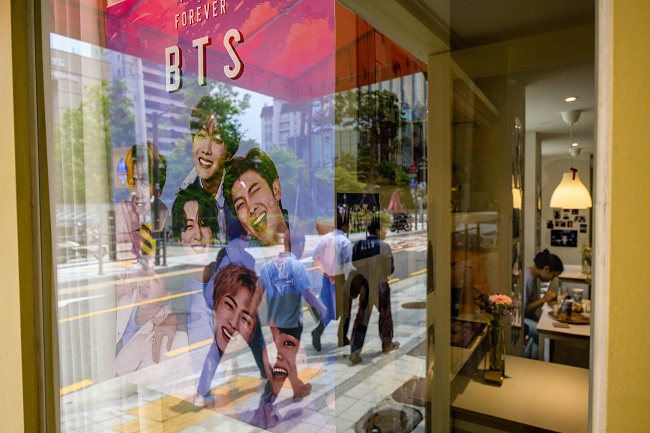 Beginning on Monday, popular tourist attractions in Seoul, such as the Namsan Seoul Tower and Dongdaemun Design Plaza, will be illuminated in the ARMY's official color of purple in honor of the anniversary.
Jimin's six-track solo album "Face" was released in March. BTS members who have not yet begun their military service have been very busy with their solo ventures.
According to analysts, it is probably a part of a thoroughly thought-out scheme.
The fact that BTS is still intact and active marks their tenth anniversary in the best possible way, according to Jeff Benjamin, a K-pop correspondent for Billboard.
"Due to South Korea's compulsory military service, every male K-pop group will need to pause or transition, but not every group is well prepared as BTS has with preplanned music and content that bears important value.
Benjamin continued, "Even the brand-new song itself, 'Take Two,' refers explicitly to this new chapter of BTS with their fans.