Mustapha Gajibo, a Maiduguri Engineer Builds 12-Seater Electric Buses, Photos Excite Nigerians
Nigerians are enthralled by the work of Maiduguri engineer Mustapha Gajibo, who constructs 12-seat electric buses.
Nigerians on social media are ecstatic to see the new fleet of electric buses that Engineer Mustapha Gajibo has created in Maiduguri.
Many people were impressed by the spectacular images of the new buses that Mustapha Gajibo, a well-known renewable energy engineer, posted on Twitter.
65% of the materials used were from local sources.
The new buses are reportedly 12-seaters with 212km of range on a single charge and a top speed of 110km/h.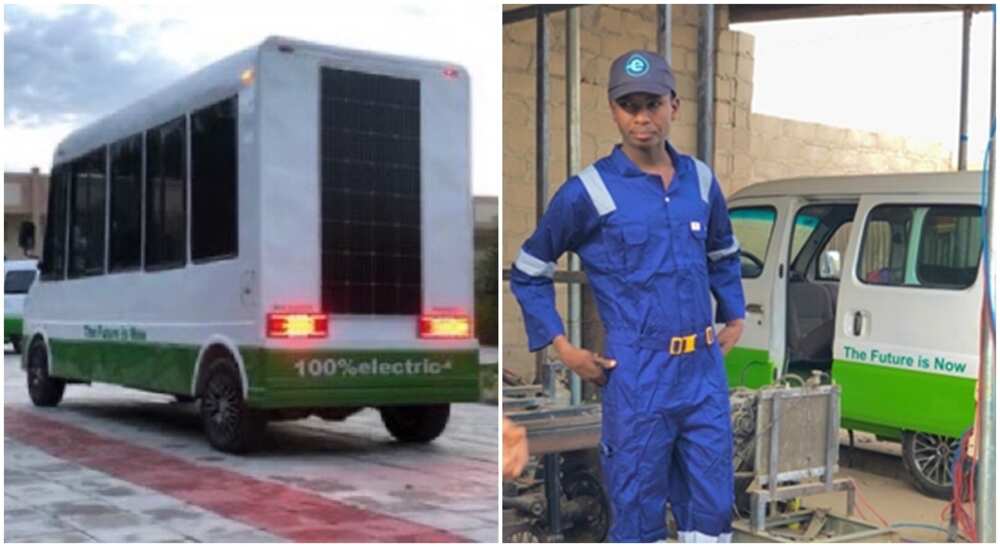 Additionally, solar panels power the buses. Gajibo, who posted the images to Twitter, claimed that 65% of the materials used to construct the buses came from within the country. He stated:
"100% electric, 12 seater, 212km range on one charge, 110km/hr speed, fully air-conditioned, voice command system, built using 65% locally sourced materials, fully designed and built in Nigeria."
Read Tweet below
https://twitter.com/mustapha_gajibo/status/1549815311108546566?ref_src=twsrc%5Etfw%7Ctwcamp%5Etweetembed%7Ctwterm%5E1549815311108546566%7Ctwgr%5Ebc5ef56d556c3f588ffb5a813197ae4f7cd7a60f%7Ctwcon%5Es1_&ref_url=https%3A%2F%2Fwww.legit.ng%2Fpeople%2F1486400-great-happening-maiduguri-mustapha-gajibo-builts-12-seater-electric-buses-photos-excite-nigerians%2F
Twitter users in Nigeria react
@Deimlar said: "Wow! Well done. I'm delighted for you. Great to see some Nigerians putting their God-given talent to positive use. I'm particularly appreciative of your forward-thinking creation aimed at the current Green Energy drive aimed at the protection of our environment. Good luck & God speed."

@epistle2005 commented: "Imagine producing this in mass for intracity commercial transportation purpose after evaluating its viability."

@mr_lams_lamido reacted: "Well done Engr, the country needs you, especially at these hard times."