Mack Rutherford becomes Youngest pilot to fly solo around the world at 17-year-old
The youngest person to fly solo in a small plane around the globe was Mack Rutherford, a 17-year-old youngster.
After traveling for five months through 52 countries, Mack Rutherford finally touched down in Sofia, Bulgaria. He crossed two seas, traveled through Europe, Asia, Africa, and the United States, and his plane landed in Scotland's Wick before taking off from London's Biggin Hill Airport earlier this week.
Mack Rutherford, a British-Belgian who made the journey, ran into sandstorms in Sudan and spent the night on an empty Pacific island.
On Wednesday, August 24, after attaining the record, Mack urged others to "follow your dreams, no matter how old you are."
To accomplish your goals, "work hard and move forward," he advised.
British pilot Travis Ludlow, who was 18 when he finished his journey last year, held the previous record for solo flight.
Zara Rutherford, Mack's elder sister, is the youngest person to fly solo around the globe.
She revealed that she had "offered him advise on the trip" and traveled to meet Mack when he finally returns at the starting site of his trip after completing her own tour in January of this year.
Mack Rutherford is bred from aviator family. On March 23, he left the capital of Bulgaria, traveling through India's unexpected airport closures and Dubai's harsh heat.
Mack added that after having a "hairy moment" traveling through rain and low cloud, he had spent the night in a shack next to a runway on an uninhabited island in the Pacific Ocean.
While still traveling, Mack Rutherford spoke with CNN about some of the breathtaking locations he was able to fly through, including the New York City skyline and wildlife in Kenyan national parks.
He noted that during the lengthy, low-altitude flights, which may last up to 11 hours, having "something I can look at" at all times helped him stay focused.
When asked about his future plans, Mack responded, "I'm going to keep flying. I'm picturing something along the lines of the air force, although I'm not really certain.
"After I finish this I've just got to focus on school and try and catch up as much as I can."
With this achievement, he has now broken two Guinness World Records: the youngest person to fly solo around the world and the youngest to operate a microlight aircraft.
The adolescent piloted a Shark, a high-performance lightweight vehicle with a top speed of about 186 mph (300 km/h).
While he was in the air, his sister Zara claimed that she was "constantly" attempting to stay in touch with him and support him.
"I participated in his daily phone calls from our parents. To be of assistance to him, "I gave him guidance about the route and the flight."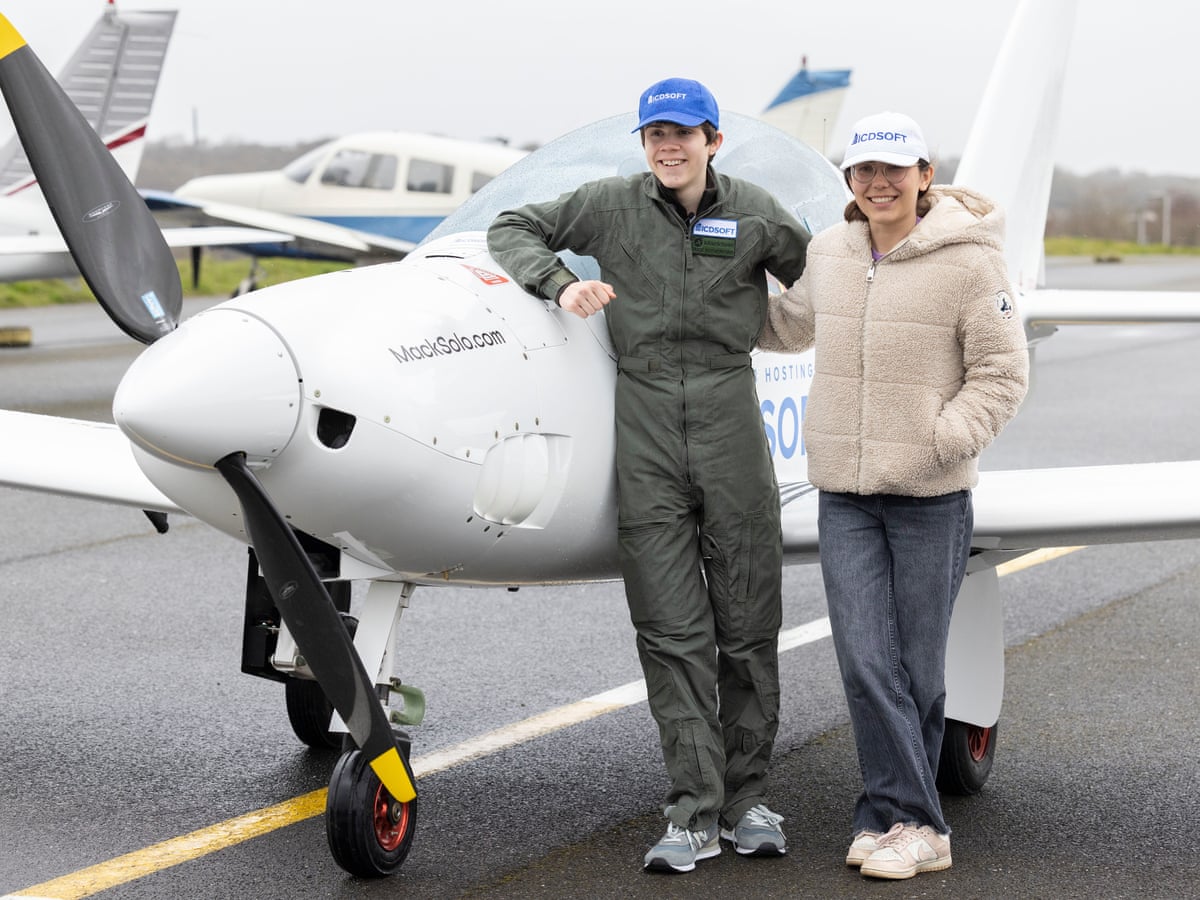 Mack Rutherford earlier stated that he had aspired to be a pilot since he was three years old, and in September 2020, at the age of 15, he became one.
His mother Beatrice Rutherford is a private pilot, while his father Sam Rutherford is a licensed ferry pilot.