Women's Football Hijab Ban Upheld by Top French Court
A ban on female football players wearing Islamic hijab headscarves was upheld by France's top administrative court on Thursday after politicians jumped on the issue and warned that secularism was in danger.
The Constitutional Council said in a statement that sporting federations, whose job it is to maintain the smooth operation of public services, "can impose an unbiased requirement on their players in competitions and sporting events, to guarantee the smooth operation of matches and any clashes or confrontation."
It deemed "appropriate and proportionate" the French Football Federation's (FFF) ban on "any sign or clothing clearly showing political, philosophical, religious, or union affiliation" while a game is in progress.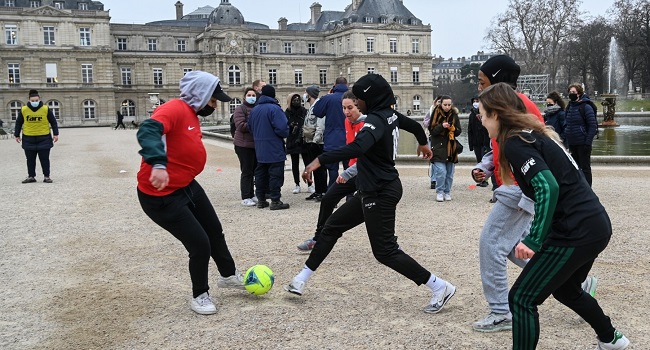 The "Hijabeuses," a group of Muslim female football players, had started the protest against the FFF rule.
Judges came under political pressure before to the decision as mainstream parties sought to stave off the far right, which was polling strongly.
In France, the subject of secularism is contentious. Supporters see it as a way to ensure the government's religious neutrality, while detractors see it as a way to discriminate against Muslims and other racial and religious minorities.
When the state's legal advisor declared the rule to be unjustifiable on Monday, it gave the "Hijabeuses" a boost and sparked a political backlash.
Hardline advocate for maintaining law and order, Interior Minister Gerald Darmanin, stated on Tuesday, "I hope profoundly that (judges) uphold neutrality on sports fields."
The "Hijabeuses" wanted to "batter" the republic, Darmanin continued.
"You shouldn't participate in sports while wearing religious attire… You don't need to be aware of the opponent's religion when playing football, he remarked.
There have also been contributions from other members of the National Rally and the conservative Republicans party.
Marine Le Pen, a prominent member of the far-right, tweeted: "No to the hijab in athletics. And we'll enact legislation to ensure its observance.
If the court permitted the hijab, Republicans chairman Eric Ciotti said his party—which has just 62 seats in France's 577-seat parliament—would file a bill on the subject.
Amelie Oudea-Castera, the minister of sports, has also said that Macron's administration might pass legislation, adding that "we aren't ruling anything out" and "we can see that there is a need for clarification."
On Wednesday, the Constitutional Council itself responded to what it called "attacks aimed at the administrative branch and especially the legal advisor".
The group stated that challenging the judiciary's operations was "an attack on an institution that is essential for democracy" and threatened legal action in the event of "insult, defamation, incitement to hatred, or threats."