Brazil Govt Protest Racist Abuse Of Vinicius In Spain
In response to the most recent episode of racial abuse directed at Brazilian footballer Vinicius Junior, Brazil said on Monday that it had formally protested to the Spanish ambassador and will file a formal complaint with authorities in Madrid.
Since the Real Madrid player was subjected to racial slurs during the team's 1-0 loss to Valencia on Sunday, there has been an outpouring of condemnation in Vinicius's native Brazil.
The Brazilian government announced that La Liga and the Spanish government would receive a formal complaint from Minister for Racial Equality Anielle Franco.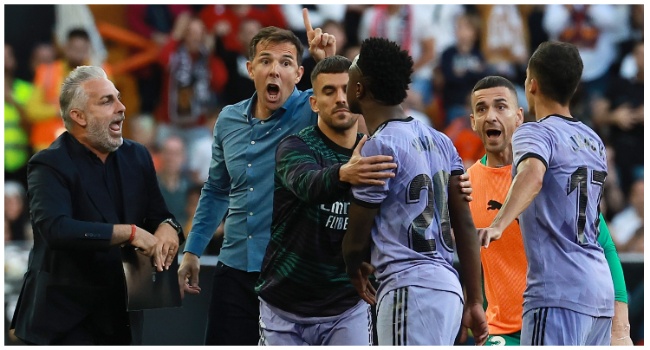 Meanwhile, a source in the foreign ministry told AFP that the government had complained to Spain's ambassador to Brazil.
Although the Spanish ambassador is not currently in Brasilia, the source added, "we have already spoken with her by phone to express the Brazilian government's displeasure over the repeated racist attacks against (Vinicius) and the need for an appropriate response."
Vinicius, who has been subjected to racial epithets on numerous occasions in Spain, was again called names from the stands on Sunday, causing the game in Valencia to be stopped for a while.
In his post-game report, the referee noted that the player had received "monkey" yells.
The abuse was denounced by the president of Brazil, Luiz Inacio Lula da Silva, which sparked a wave of sympathy for Vinicius, including from retired icon Ronaldo and fellow Brazilian talents Neymar and Richarlison.
Brazil's government issued a statement in which it expressed its "deep regret that no effective measures have yet been taken to prevent the recurrence of these racist acts."
It encouraged FIFA, the Spanish Football Federation, and La Liga to take "the necessary measures" and urged Spanish authorities to "punish the perpetrators and stop further cases."
The incident was the subject of a Monday investigation by Spanish prosecutors, and the Spanish sports council said it was examining video footage to "identify the perpetrators of these insults and behaviors in order to propose proper sanctions."