After Pete Davidson and Kim Kardashian split up, Kanye West declared him to be "Dead"
Following the split between the Saturday Night Live star Pete Davidson and Kim Kardashian, Kanye West pronounced Pete Davidson Dead.
It was revealed over the weekend that Kim Kardashian and Pete Davidson are no longer together. This is true even when Pete has tattoos of Kim and her children on his arm.
Kim allegedly dumped Pete Davidson because he was "immature," according to sources.
After the separation, Kanye, who has never hidden his distaste for Pete, announced Pete's passing on Instagram.
Kanye posted on Instagram, "Skete Davidson dead at age 28."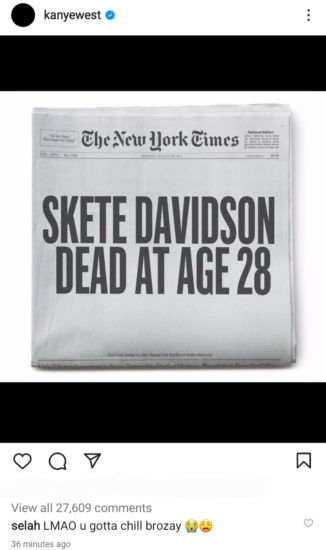 At the Moment the cryptic post is the only publish he made on Kanye's verified instagram profile